Blackshaw Head Chapel
Welcome to the website of Blackshaw Head Chapel
and the church and community that meets there and uses the building.



WE ARE OPEN!
THE CHAPEL IS OPEN AGAIN FOR CHURCH AND COMMUNITY ACTIVITIES.
THE CHURCH AT BLACKSHAW HEAD IS NOW MEETING IN THE CHAPEL EVERY SUNDAY AT 10.15. So far we are getting together to watch the worship video which we produce each week for online streaming, but we hope to be sharing in live worship before long.

SOME OF OUR COMMUNITY ACTIVITIES ARE BACK AND RUNNING ALSO :
TABS (Toddler And Baby group) MEET EVERY WEDNESDAY MORNING. (contact Ann - 07754 852021)
BSH GAMERS CLUB MEET ALTERNATE FRIDAY EVENINGS. (contact Grayde 01422 853012)
BLACKSHAW PARISH COUNCIL MEET MONTHLY.

During the 'lock-down', when the prayer tree in the chapel is not accessible, we have created a 'virtual prayer tree'. You can post a prayer request HERE and it will be passed on to the congregation members to be included in their prayer time the next Sunday.

POEGTAP (

P

EACE

O

N

E

ARTH +

G

OODWILL

T

O

A

LL

P

EOPLE) IS OUR TAKE ON 'BUILDING BACK BETTER'.

POEGTAP IS NOT A RELIGIOUS MANTRA NOR A POLITICAL SLOGAN. IT IS, QUITE SIMPLY, THE ONLY WAY FOR US TO LIVE TOGETHER ON THIS PLANET. Why not explore our seven broad themes for a joined-up approach to living a better life . You will find them HERE :

THE CHURCH AT BLACKSHAW HEAD : A CHURCH FOR ALL.

Although we are a Methodist Church, as there is no other church in the village our membership comes from a spectrum of backgrounds - Anglicans and Catholics as well as Methodists and those with no particular denomination.
This diversity is reflected in our life together, which draws on a wide range of Christian traditions.
We believe in a church that is inclusive and family-centred, that embraces a variety of spiritualities, and that increasingly meets and shares together 'on-line' as well as in our lovely chapel. We try not to be 'religious', but instead to concentrate on working out how to live the kind of life set out in the gospels, and to become the kind of loving and caring community to which Jesus calls us.
Our Sunday services vary from week to week - once a month we have a family service where all ages stay together; other weeks our children spend some time separately in their 'Sunday school'. We have communion around once a month, and every two months or so we have a 'cafe church', where we sit at tables and have coffee and buns as part of worship which tends to include videos and conversation.
As well as every Sunday, we also have occasional short services on weeknight evenings (including a monthly Catholic mass), and the building is well-used for community activities during the week.
You will find more information on all of this, and much more, in this website, so please come in and explore what we are about.
(PLEASE BEAR WITH US AS WE DEVELOP OUR REVAMPED WEBSITE.)
We aim to serve the local community in whatever ways we can, as both a spiritual and a practical resource.
The chapel provides a useful suite of community rooms which we make available for community events such as the village fete and local history club exhibitions, and we hire out space for both regular clubs and meetings and one-off events and private parties.
The chapel also hosts Blackshaw Parish Council's meetings and provides a performance space for Colden School.
In the porch is our Christmas manger, which is well-used all year round as the village's collection point for donations for two local food-banks.
The chapel is a spiritual base for celebrating and remembering all the landmarks of personal and civic life, and provides further ministry to the community through its beautiful graveyard.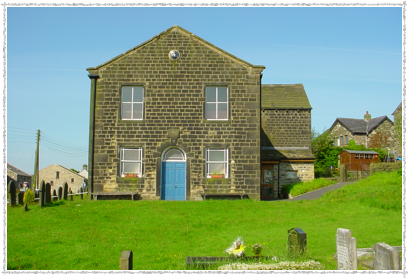 Waymarks

'Waymarks' is our proposal for an on-line community of those who would like to commit to a shared spiritual journey.

Find out more here : 'Waymarks'
The Quiet Place

We have stopped opening the quiet place on Friday evenings for the time being, due to a shortage of resources.
You can still visit the quiet place online